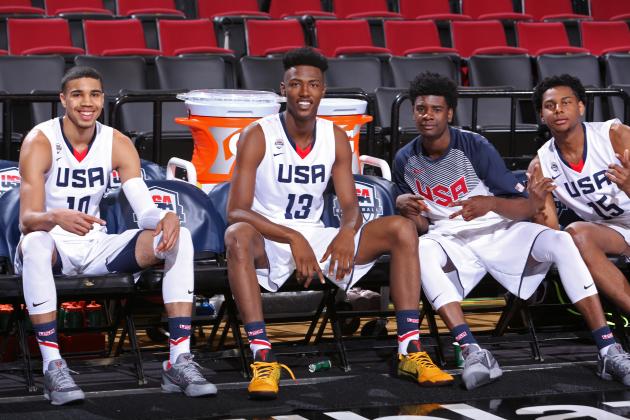 It is always good to take a look into the NBA's Future as we get closer to the start of college basketball season.
The 2017 NBA Draft is one that has heralded a lot a hype and has been called the best draft class since 2003. With a less than a year until the draft it is no way to predict where this draft class will go down in history. The current group of prospects have a year to prove to General Managers that they are worthy of being selected in June's draft. In the next 3 articles, I'm going to give you my thoughts on the Top 25 prospects that could be in next June's draft.
1. Josh Jackson- Small Forward- 6'8 203 lbs- Kansas
Jackson is a player with the potential to be an  impact freshman before moving towards becoming a legitimate candidate for the top pick in the 2017 NBA Draft. Jackson has a unique combination of skill, size, explosiveness, and passing ability. Very wiling and proven defender Jackson looks poised and ready to compete at Kansas.
2. Harry Giles- Power Forward-6'11 222 lbs- Duke
An amazing physical specimen Giles combines elite guard-like vision, handles, and quickness. He has a standing reach of 9 foot 1 inch, a 7 foot 3 inch wingspan, and he's standing at 6 foot 11 inches tall. The all-around skillset that he possesses has caused GM to salivate over the 18 year old star since his freshman year of high school. Giles has longly been considered the top high school player in the nation, even though two knee surgeries kept him out for extended period of time. Now he's 100% healthy, so look Giles help lead Duke to championship glory.
3. Markelle Fultz- Point Guard- 6'5 186 lbs- Washington
Fultz lead the U-18 United States FIBA Americas team to the Gold Medal and capturing the MVP as well. A silky smooth player, Fultz has a solid feel for both guard positions. He has exceptional ball handling skills to go with great work ethic and athletic ability. This has made Fultz to be considered one of the top Point Guard prospects in the country. Fultz possess tremendous vision and passing ability, and he loves to get his teammates involved in play. He is a solid defender, but will need to improve in order to become elite moving forward.
4. Dennis Smith- Point Guard- 6'2 160 lbs- North Carolina State 
One year removed from a torn ACL, Dennis Smith was back playing at Adidas Nations Camp. His play against some of the top players in the college basketball only reignited the consideration of Smith as the top pick in next years draft. He's a freak of nature athletically and is hungry to prove he's back and better than ever. An amazing playmaker look for Smith to take the reigns of NC State's offense and make a serious push for ACC Freshman of the year along with Giles and Jayson Tatum of Duke.
5. Jonathan Isaac- Small Forward- 6'11 205lbs- Florida State
He has exceptional size for the small forward position. Isaac can play both forward positions while possessing a 7'1.25 wingspan and 9'0.5 standing reach. His athleticism and foot speed allows Isaac to be an elite defender. He also has the intangibles that makes him an offensive juggernaut as well. He needs to improve his strength and become more consistent in college. After a year in the ACC, look for Isaac's name to be called early in next years draft.
6. De'Aaron Fox- Point Guard- 6'4 171lbs- Kentucky
Possessing solid ball handling and quickness allows for Fox to break down his opponent and get to the rim at will. Fox is an elite level defender and utilizes his defense to create offensive opportunities. Fox makes his calling on the defensive end. He has great anticipation skills that lead to steals. De'Aaron is a willing and solid distributor of the ball and loves to get his teammates involved. But he must improve his jumpshot out to the 3 point line.
7. Frank Ntilikina- Point Guard- 6'5 170 lbs- France
Frenchmen Ntilikina possesses one of the most matured and poised games of any prospect. Standing at 6 foot 5 inches tall, Ntilikina has excellent size for the lead guard position. His combination of his speed, quickness, and strength allow for him to effectively guard both guard positions and some small forwards. Ntilikina has amazing court vision to compliment his passing ability. Currently playing in the top level of basketball in Europe, Ntilikina will need to continue to develop his body and become more assertive with the ball.
Parts 2 and 3 will be coming very soon. Please follow me at @dynamicscoop on twitter and tell me all of your thoughts or leave them at the bottom of the article.