As We Get Closer To The 2017 NBA All-Star Weekend, Let's Breakdown Why This Game Will Be Something To Watch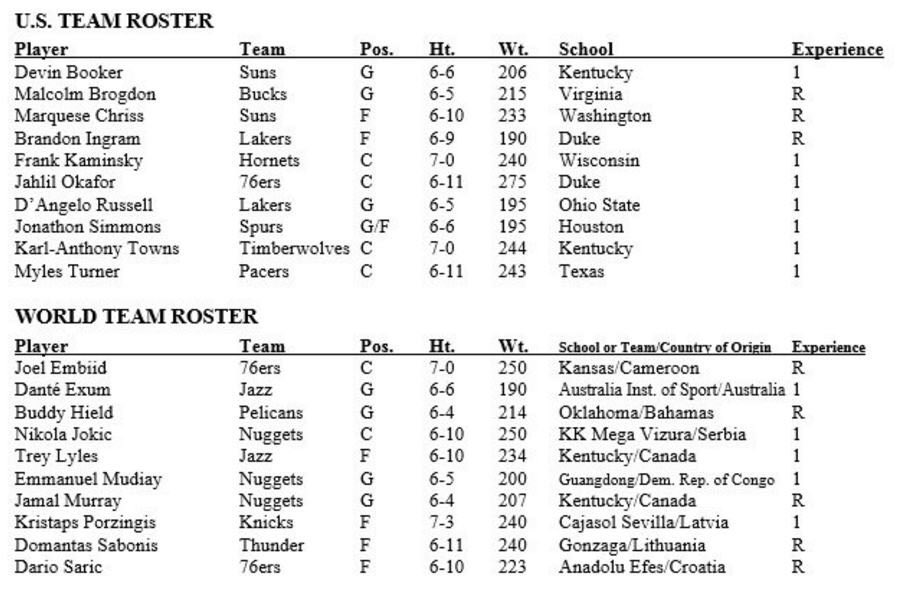 Lets take a look at Team USA's roster:
Backcourt: Devin Booker (Phoenix), Malcolm Brogdon (Milwaukee), D'Angelo Russell (L.A Lakers) and Jonathon Simmons (San Antonio)
When you look at the USA's backcourt, anytime you have Booker and Russell as your starting duo, your going to off to a very good start. Booker, who is one of the best shooters in the NBA currently, is the 2nd highest scoring player selected for this game. His 20.6 points per game puts him in the Top 30 in that catagory and he has 7 games scoring over 30 points. Even though Russell has missed some time with a recent MCL and calf injury, he's still one of the premier young guards in the game today. He leads the Lakers in both assists and steals and is 2nd on the team in scoring. Brodgon has been really the best "Rookie" in the class this season. (Embiid and Saric both mentioned later were drafted 2 years ago) He's been one of the reasons why the Bucks have hung in the Eastern Conference playoff chase at the moment. Simmons who came on the scene on opening night against the Warriors, has been very solid off the bench in San Antonio all season long.
Frontcourt: Marquese Chriss (Phoenix), Brandon Ingram (L.A Lakers), Frank Kaminsky (Charlotte), Jahlil Okafor (Philadelphia), Karl- Anthony Towns (Minnesota) and Myles Turner (Indiana)
In the Paint is where Team USA can make a lot of noise. Everyone knows how good Towns has been in Minnesota all season long. To be honest, he has a right to be playing in Sunday's All-Star game. He is quite possibly the best young big man in the game today. You add Myles Turner along side of him and you have enough length and shot-blocking ability to counter act what the World brings to the table. Just when you think that you couldn't have enough scoring on this front-line, the United States will throw 76ers 2016 top pick Jahlil Okafor and the Hornets 2016 top choice Frank Kaminsky at you as well. Both can score but they do it very differently. Okafor is the best low post scorer of any player in this game and Frank has shown range out the 3 point line as he has hit 55 this season. (He hit 68 of them last season.) The Lakers rookie Ingram might have the most talent of any player on that roster and his play of last has fans out in Los Angeles drooling. Chriss game is very comparable to Chris Bosh of the Miami Heat and in a format like this, he could be the breakout star on both teams.
Who Was Left Off? Josh Richardson (Miami), Larry Nance Jr. (L.A Lakers) and Rondae Hollis-Jefferson (Brooklyn)
I think if anyone should have been in this game it's the Heat's Richardson. He's the only player not in this game that is in the top 10 among eligible players for this game in scoring and steals. Nance Jr. can give you a highlight dunk at any point, but he's 4th in rebounding and has the 2nd highest field goal percentage among players that play constantly. Rondae has been very solid for Brooklyn in his second year, known for his defense, his offensive game has started to show signs of life.
Lets Take A Look at The World's Roster:
Backcourt: Dante Exum (Utah), Buddy Hield (New Orléans), Emmanuel Mudiay (Denver) and Jamal Murray (Denver)
Now on paper this group doesn't have the big names that have the star power of the United States, but Hield and Murray can shoot the basketball. The hometown Pelican in Hield could have one of those Daniel Gibson Rookie/Sophomore game performances. Murray has a chance to play both guard spots and should be able to knockdown a few from downtown as well. Now with both Point Guards in Exum and Mudiay, you have an interesting pair. Exum hasn't lived up to his potential in this 2nd year in the league, but he has the size and length to make some plays in this game. Mudiay has been so up and down during his early NBA career, that you're not sure what player you are going to get. Some nights he shows the potential that had him drafted so high in the lottery and then you have those nights where he turns the ball over so much that you cringe when you sit at home watching the game.
Frontcourt: Joel Embiid (Philadelphia), Nikola Jokic (Denver), Trey Lyles (Utah), Kristaps Porzingis (New York), Domatas Sabonis (Oklahoma City) and Dario Saric (Philadelphia)
Even with the United States having Towns, Okafor and Turner leading the front-court, the World hands down should dominate down low. To many Towns is the best young player under 24 in the entire league right now, but there are some that would take Embiid, Porzingis or even the potential of Jokic over Towns. What to watch for his the passing ability of Jokic, he could be the best pure passing big man in the league. His courtvision from the center spot should allow every single member of the World front-court to unload from behind the arc. Lyles, Saric and Sabonis are over 33% shooters from downtown. The real question for this group is how much will Embiid and Porzingis play in this game. Joel has been on a minute restriction the entire season and might not have a long night on the floor in New Orléans. Now Porzingis has had Achilles issues for about a month now, which has slowed him down and potentially might have costed him a chance to play in the game on Sunday.
Who Was Left Off? Nemanja Bjelica (Minnesota), Willy Hernangomez (New York) and Christian Felicio (Chicago)
With the front-court being so deep for the World squad, there was really no reason to add any of the three guys mentioned above. But they have all had very good seasons so far this year. Bjelica has taken advantage of time when he's been given it. In his only start this year, he had 24 points and 8 rebounds in a victory against the Lakers. Hernangomez has been a fan-favorite with his all out hustle. Felicio's game has gotten better and better as the season has went along. With increased minutes so far in January, he's averaging 6.2 points and 5.7 rebounds a game this month.
So Who Wins and Who Is The MVP?
I'm taking the World in this game 134-126 is going to be the final.
MVP: Nikola Jokic- World- 25 points 14 rebounds and 9 assists 
Leading Scorers: Buddy Hield- World- 31 points and Devin Booker- USA- 39 points